Tucked away on the road to Vathi beach, just outside of Gytheio, you'll find one of the most wonderful restaurants I've ever been to.
A few years ago, I was visiting my mother's hometown of Krokees in Laconia, when I went for a day of diving and swimming with old friends. The Karasisters (as I call them) and their boyfriends picked me up in the morning and took me to a small beach where Hari could do some spear fishing (Hari is from Crete and loves catching his own food, if he can find it!).
I spent most of that day on the beach, soaking up the sun and admiring some of the different fish that swam up shore: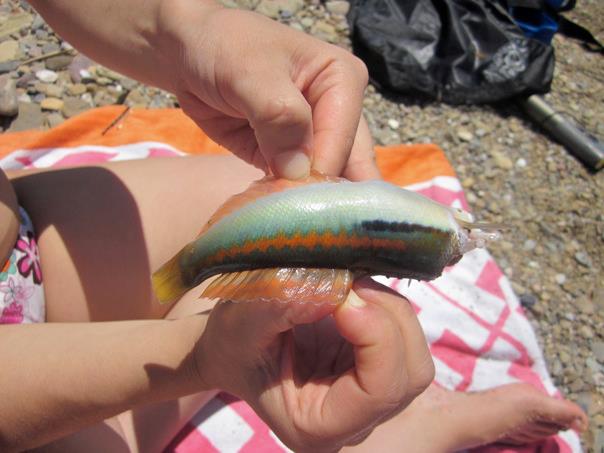 I actually remember that we had all lost track of time, and started to worry if Hari had been gone too long! Us girls had been so caught up in the fish near the shore that we'd completely forgotten to keep watch for Hari's marker in the water.
Hari returned in one piece, of course, and luckily for us, he returned exhausted and ready for a big meal. And so we went to the Taverna Ths Marias in Vathi.
I'd never been to this taverna before, and if I had, I never would have remembered. There's no signage on the road leading you toward the establishment, you just have to know where the turn is.
The taverna isn't very big, just a few tables and chairs on the outdoor patio that are covered with grapes over top. Of course, like most Greek tavernas, and as many of you might know from our post about tavernas, there's no menu.
The best part about this tavern, however, is that it's truly one of Grandma's Tavernas: though now run by Maria, her grandmother is a constant presence, continuing to cook and ensure that her recipes are all passed down to Maria.
The Karasisters and their beaus did the ordering, and told me that the specialty dish is kokkinisto kotopoulo me makaronia. which is basically a slow cooked chicken in red sauce, with long, home-made spaghettis.
Boy, was it worth it! Its been almost 3 years since my first meal there, and I still remember exactly everything about it today.
For those who read Greek - or don't mind using Google translate! - check out a more detailed review of Maria's taverna at the famous Greek food review site, Gastronomous.gr.