A Laconian Twist on Favorite Greek Foods
Greek food in Laconia: Spring
As we are approaching Spring we are also approaching one of the biggest feast days in Greece: Easter. Today marked the first day of the Lenten period which is called Kathara Deftera, or, "Clean Monday," in Greek. It marks the first of 40 days of fasting from meat and dairy products. For this reason, we've got two recommendations for what to eat in Greece in the Spring time in Greece; one for during lent, and the other for when the fast is broken and the feast begins!
Fasolada: is a Greek and Cypriot soup of dry white beans, olive oil, and vegetables, sometimes caled the national food of the Greeks. Enjoy it in the Laconia region with freshly baked bread from the local bakery.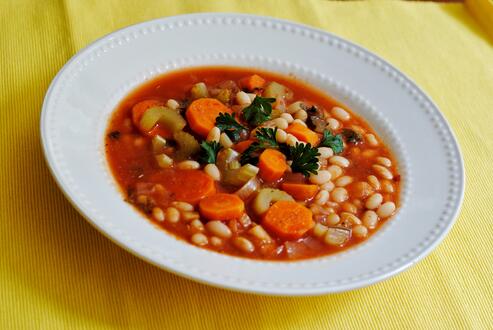 Lamb, of course, simple roasted with salt, pepper, oregano, garlic hearts, olive oil and some lemon. In Laconia we aren't huge fans of the lamb on the spit - we roast it in the oven until the garlic is like butter! Pro tip: bake it the night before, and reheat the next day on broil: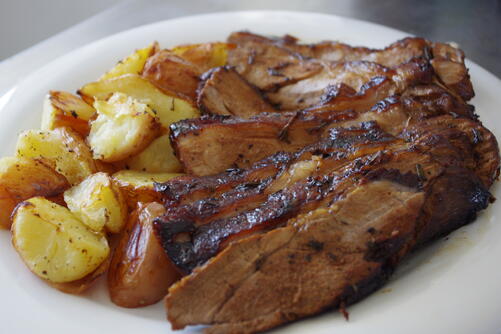 Greek food in Laconia: Summer
If you're living anywhere outside of Greece, and aren't Greek, you might think that Greek food is heavy, greasy, and unhealthy. Thanks to a recent New York Times Article, however, the Mediterreanean diet is making a comeback and is becoming known for its wide array of veggies and fish, so here's our summer recommendation.
Psari sta karvouna - Grilled fish: self explanatory. Make sure to order extra lemon. Laconia has so much coast, you can't really go wrong when you order fish at the tavernas there!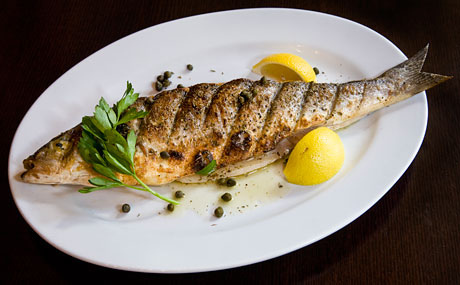 Greek food in Laconia: Autumn
Just like in the states, autumn is Greece is a time to take the insides out of a vegetable, only this time it's not a pumpking but a tomato, or a pepper, or even an eggplant! Mom's stuffed veggies can't be beat, but here's another mouth-watering pic in case you aren't familiar with them.
Gemista - literally, stuffed veggies. You can find them with or without meat, it's up to yiayia. Usually in Laconia they'll be vegetarian in the summer and with meat in the autumn.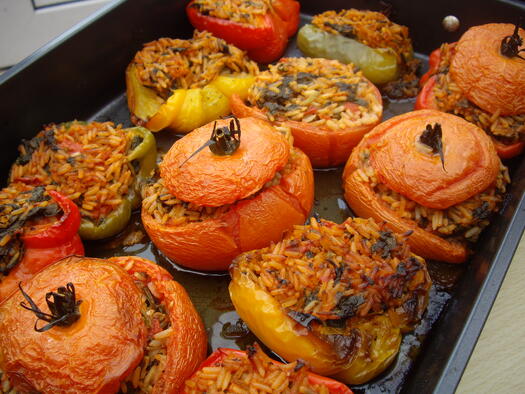 Greek food in Laconia: Winter
Let's get right down to business: winter is about the sweets. We make loads of different cookies in Greece over the holidays, so it's hard to give just one recommendation. I'll round out the end of this post with another tradition which is our New Year's Eve cake, called a Vasilopita, or King's Pie: a coin is baked into the pie, and the person who gets the piece with the coin gets good luck for the rest of the year!

Vasilopita - if you're in Greece over the holidays try to find a piece! My Mom's Laconian tradition is pictured below: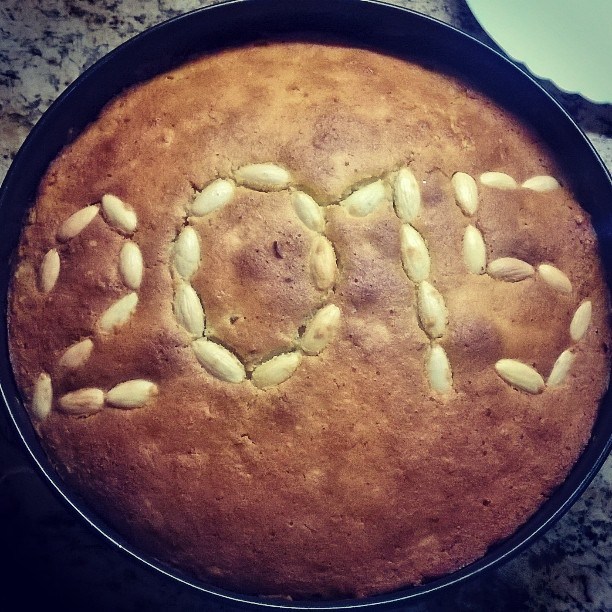 Intrigued by our suggestions and want to start trip planning?